Wall Street has been in free fall since the beginning of this year, with the exception of the second half of March. The day-to-day fluctuations of the major indices are higher than what we saw in February-March 2020, during the coronavirus epidemic.
Market participants are faced with the real effect of the pandemic, as the impact of the coronavirus and its variants on day-to-day activities is now much less. As real business returns to normal and fiscal and monetary stimuli have ceased, the pain of the pandemic is being felt by investors.
Soaring inflation, complete destruction of the global supply chain system and geopolitical conflicts have raised serious doubts about global economic growth. In the United States, a large part of economists and financial experts fear a recession either in 2022 or next year.
Consequently, extreme volatility appeared in US stock markets. However, has the US economy become too weak to be susceptible to a recession or are the bears now raging on Wall Street, driving the downtrend?
Economic slowdown and the Fed
US inflation is currently at its highest level in 40 years and the Fed is gradually moving from an ultra-dovish policy regime to an ultra-hawkish one. According to a large part of market observers, the devastation of the supply chain and the end of the easy money policy are likely to reduce aggregate demand, leading to economic contraction.
US GDP contracted 1.4% in the first quarter of 2022 after gaining 6.9% in the previous quarter. This unexpected contraction was mainly due to a record trade deficit, lower government spending and lower inventories. Consumer spending and business investment remained stable. Even Fed Chairman Jerome Powell considered these factors in his post-FOMC statement in May.
The Fed may have viewed "inflation as transitory" for too long. Several measures of inflation have started to rise since May 2021. Yet, in December, the central bank realized that inflation had become a real threat that needed to be tackled with tougher measures.
The central bank ended the $120 billion-a-month quantitative easing program in March and raised the benchmark policy rate by 25 basis points in the same month and 50 basis points in May. It also gave a clear signal that two more 50 basis point rate hikes are coming in June and July and that the systematic $9 trillion balance sheet reduction would begin on June 1.
However, the predominant source of the surge in inflation is supply-side disruption. U.S. companies' overreliance on China for cheap inputs, ranging from everyday consumer goods to high-end tech products, is taking its toll as the latter are stalled due to the resurgence of the COVID-19. The Russian-Ukrainian war is another concern.
In this situation, it remains to be seen how effective it will be to contain inflation by raising interest rates, reducing liquidity and thereby reducing demand. Several economic data released recently, such as manufacturing, services, labor market and retail sales remained strong despite the gap in their picks. Finally, US corporate first quarter earnings results are better than expected.
Bears fly high
While stock market bulls roar with a long-term rally, bears await the market pullback. In this respect, certain economic factors act as catalysts.
For example, Wall Street ended 2019 on an impressive note with the Dow Jones, S&P 500, and Nasdaq Composite — rallying 22.3%, 28.9%, and 35.2%, respectively. At this point, several economists and market pundits began to warn that the market was overvalued, especially when the US GDP growth rate fell below 3%, with the economic expansion continuing for 11 years, marking the longest expansion in history.
During the 11-year long bull run, the S&P 500 rebounded 400%. Additionally, the Dow and Nasdaq Composite also soared over 300% and 500%, respectively. At some point, these huge gains must be capitalized. The chaos caused by the coronavirus acted as a catalyst to sell stocks and make gains.
The pandemic-induced bear market bottomed out on March 23, 2020. Wall Street saw another bull market thereafter, exiting the shortest-ever bear market supported by unprecedented fiscal and monetary stimulus. The Dow, S&P 500, and Nasdaq Composite posted their recent highs on January 5, 2022, January 4, 2022, and November 22, 2021.
From March 23, 2020 to recent highs, the Dow Jones, S&P 500 and Nasdaq Composite are up 102.9%, 119.8% and 144.5% respectively. Therefore, another profit realization term is due. This time, the economic factor is rising inflation.
As of May 10, the Dow, S&P 500 and Nasdaq Composite are down 13%, 17% and 27.6% from their recent highs. The Nasdaq Composite is in bearish territory while the Dow Jones and the S&P 500 are in the correction zone. On May 9, the S&P 500 closed below 4,000 for the first time since March 2021 and the Nasdaq Composite closed at its lowest since November 2020.
How to invest
Wall Street is no longer overvalued. In 2022, the main driver for US equity markets will be the strength of the country's economic fundamentals. The US economy will benefit more from government infrastructure spending.
Markets may remain volatile for the foreseeable future. However, we expect a good recovery in the second half once the Fed's policy changes are fully adjusted to market valuation. At this stage, it will be better to stick with quality stocks. Invest in US corporate bigwigs (market capital >$50 billion) with a favorable Zacks ranking.
These companies have a robust business model and globally recognized brand equity. They have strong balance sheets and generate strong free cash flow. Five of them are – Exxon Mobil Corp. XOM, 3M Co. mmm, Marriott International Inc. MAR, Conoco Phillips COP and Automatic Data Processing Inc. ADP.
These companies reported strong results in their most recent reported quarter and issued strong guidance. These stocks carry either a Zacks rank of #1 (strong buy) or 2 (buy). You can see the full list of today's Zacks #1 Rank stocks here.
The chart below shows the price performance of our five picks year-to-date.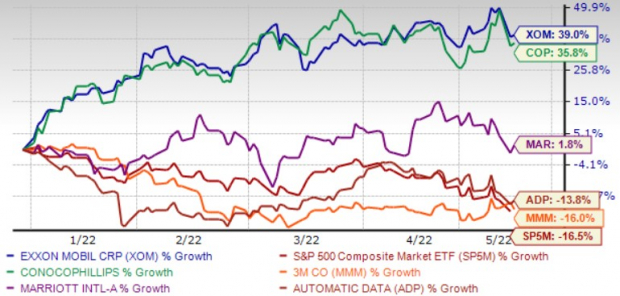 Image source: Zacks Investment Research
Special Report: The 5 Best IPOs for Your Portfolio
Today you have the chance to enter the ground floor of one of the best investment opportunities of the year. As the world continues to benefit from an ever-changing internet, a handful of innovative tech companies are poised to reap immense rewards – and you can put yourself in a position to reap the benefits. One is about to disrupt the online communication industry. Brilliantly designed to build online communities, this stock is about to explode when it goes public. With the strength of our economy and record amounts of money pouring into IPOs, you don't want to miss this opportunity.
>> See Zacks' Hottest IPOs Now
Click to get this free report
Automatic Data Processing, Inc. (ADP): Free Inventory Analysis Report
Exxon Mobil Corporation (XOM): Free Stock Analysis Report
ConocoPhillips (COP): Free Stock Analysis Report
Marriott International, Inc. (MAR): Free Inventory Analysis Report
3M Company (MMM): Free Inventory Analysis Report
To read this article on Zacks.com, click here.
Zacks Investment Research
The views and opinions expressed herein are the views and opinions of the author and do not necessarily reflect those of Nasdaq, Inc.