Investment thesis
Oatly (OTLY) is doing well in terms of building a market-leading brand, converting customers to plant-based milk alternatives, and expanding globally. Unfortunately, all of this comes at a price where shareholders ultimately have to foot the bill. Equities have corrected, but we see additional downside risk from delayed production capacity increases and financing. Current valuations do not justify investing in what will eventually become a low yielding consumer staples operation. We remain bearish on equities.
quick primer
Oatly AB was founded in 1994 and specializes in sustainable oat-based nutritional health products such as milk, ice cream, "oat gourts" and cold drinks. The technology was originally developed by scientists at Lund University in Sweden.
There are 9 production facilities planned for development and expansion through fiscal year 2012/2023 as the company expands its global footprint. Total planned investment is expected to be approximately $1.0 billion at the high end of FY12/2021 to FY12/2023, to increase manufacturing capacity to 1,475 million liters (4.7 times more than the capacity of fiscal year 12/2020).
Production capacity ramp-up schedule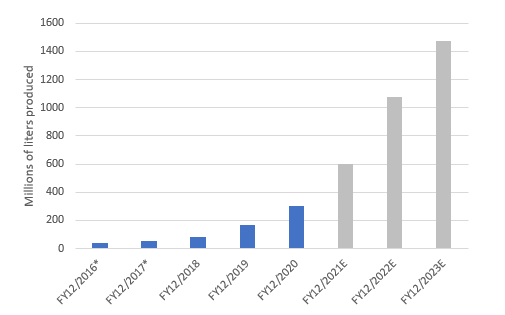 Capex versus sales trend (at the midpoint of the capex range)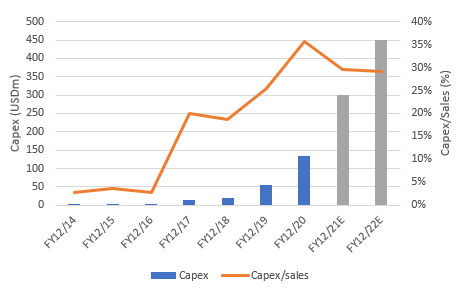 Key financial data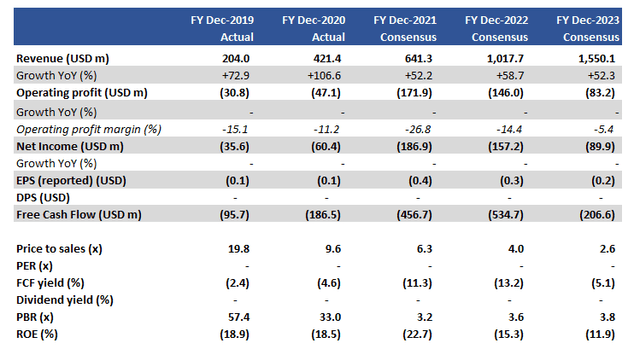 Our goals
Third quarter results for fiscal year 2012/2021 highlighted Oatly's near-term issues with weak demand from its restaurant channel due to COVID-19 restrictions, lower production forecasts for the US market, rising raw material costs and logistical problems in the UK. These issues seem temporary and should be resolved over time. In this piece, we want to assess the following:
management maintains that the long-term objectives remain intact – gross margins above 40% and an adjusted EBITDA margin close to 20%. We think these metrics are pretty weak – why would that be?
the company's capital-intensive nature is designed to drive growth, but at a cost. With strong cash burn expected through FY 2012/2023, when will the company need more funding?
We will take each in turn.
Low yield business model
We have previously questioned the company's low levels of profitability and Q3 FY12/2021 results were no exception with gross margins of 26.5% and EBITDA (adjusted) margin of -15.7 %. Oatly clearly has some way to go before reaching its long-term profitability goals.
More details on the company's cost structure on the earnings call said raw materials (oats and rapeseed) accounted for about 11% to 13% of total cost of sales. Other costs include raw materials, packaging materials and logistics, all of which are currently under inflationary pressure.
We're not overtly negative about the macro impact on the business, but we wonder why gross margins look inherently low. Even with the collapse in sales volume, soymilk and iced tea maker Vitasoy (OTCPK: VTSYF) reported gross margins of 47.9% in the first half of FY3/2022. A more comparable counterpart is Greek yoghurt maker Chobani (CHO) with third quarter FY 2012/2021 gross margins of 20% – arguably the product range (with 260 yoghurt SKUs) here is wider with milk and plant-based products. What is also remarkable is that Chobani operates profitably with an EBIT margin of 3%, an EBITDA margin of 3.5% and free cash flow positive.
What appears to be the problem is Oatly's current production model. In a race to gain market share, the company is rolling out three different formats, with the least profitable "co-packaging" (with higher shipping costs and profit share) accounting for 47% of total volumes for the Q3 FY12/2021 YTD. Similarly, the most profitable self-production model remains at 21%, despite the large capital expenditure deployed.
Total Q3 FY12/2021 YTD volume divided by production model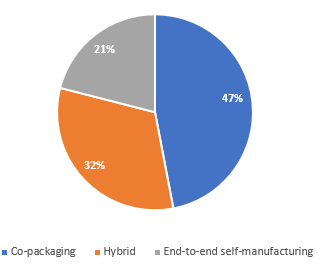 Management says the target production profile is to target self-production at 50% to 60% of the total, with hybrid (a partnership program with lighter capex requirements) at 20% to 40% and co – packaging at 10% to 20%. However, this will depend on the timing and progress of increasing global production capacity, in balance with the availability of liquidity. In the current economic climate, we believe that this development plan is experiencing delays and postponements that make margin improvements more difficult to achieve.
A competitive market will require continued high spending on marketing and promotion costs (these accounted for 40% of total sales in fiscal year 2012/2020) – and coupled with the fact that the product is a consumer product of base (as opposed to management's view of being a premium branded product), we don't see much reason to be optimistic that EBITDA margins will turn positive in the short to medium term.
Next, we examine the impact of capital expenditure on the firm's capital position.
Funding required within one year
Oatly had a net cash position of US$583 million in the third quarter of fiscal year 2012/2021. If we simply subtract the consensus negative free cash flow estimate for FY 2012/2022 of US$535 million, due to high capital intensity, we can see that the company is approaching a position of net debt within twelve months. We believe financing is a certainty and this could take the form of debt or dilutive equity.
In the current climate, a capital increase seems unlikely. An increase in debt looks likely but could become relatively costly given the outlook for higher rates and the limited track record in debt markets. Oatly has tangible assets, so a secured loan shouldn't be too hard to get, but as a loss-making, negative operating cash flow business, it won't come cheap. It is suspected that management expected stronger fundamentals by FY12/2022 in order to conduct such a transaction. The risk of delayed funding will be the continued deferral of production capacity increases, which will stunt growth and limit margin expansion. Either way, it demonstrates that Oatly is not able to self-finance its growth.
A significant increase in debt would clearly be negative in our view. This will increase the value of the business as the money is spent, increasing EV-based valuation multiples. Net profit margins will come under greater pressure, making it more difficult for the company to build up accumulated reserves.
Ratings
The shares are trading on a negative free cash flow yield for fiscal year 2012/2023 of 13.2%. The sales price is 4.0x, with sales growth expected to remain at high double-digits of 59% year-over-year.
Growth investors may be attracted by the sales growth and intangible value of a growing global brand. The market disruptor label for a large addressable market has its appeal (the penetration of Western markets would be around 10%). However, our view is that if you're happy spending US$500 million a year, most companies would be able to cause disruption and build a brand – the key question is whether there will be sustainable profits and cash generation, and we see no evidence for that yet.
Risks
The upside risk comes from Oatly being able to transition its production model to self-manufacturing faster and more cost-effectively than currently expected, resulting in improved margins and reduced consumption cash.
A change in direction can be a positive catalyst for stocks. Although the company was recently listed on the stock exchange, CEO Toni Petersson's track record to date has not been stellar. He also has no experience outside of Oatly in the fast-moving global consumer goods industry, apart from distributing Sapporo Beer (Japanese beer brand) in Scandinavia.
The downside risk stems from slowing growth due to limited supply, increasing competition from competitors such as Danone (OTCQX: DANOY) and the limited appeal of oat milk compared to other dairy-based milks. of plants.
Fundraising will be a negative event in our view, especially if leverage is perceived to be at a high level.
Conclusion
Oatly is doing well in terms of building a market-leading brand, converting customers to plant-based milk alternatives, and expanding globally. Unfortunately, all of this comes at a price that shareholders must ultimately pay. We can see why management is focused on building self-production capacity, but the returns currently don't justify investing in the shares of what will ultimately be a low-yielding consumer staples operation. Equities have corrected, but we see additional downside risk from delayed production capacity increases and funding – we remain bearish on equities.