new office spaces for vilnius
International architecture firm Rogers Stirk Harbor + Partners presents its winning entry in an international competition to design a new 19,200 square meter carbon-free business center in Vilnius, Lithuania. The competition was organized by the Lithuanian Union of Architects and the Right Bank Development Fund, and managed by Lords LB Asset Management. The London-based studio is unveiling its scheme which will introduce a strip of new office space over 7 floors, while introducing a new net zero 'town square' of pedestrian space at ground level.
Pictures © Plomp | @plo.mp
the new public square by rogers stirk harbor and partners
Rogers Stirk Harbor + Partners (see more here) is designing its Vilnius business center with a new town square and public rooftop terrace at its heart. Located at a crossroads between old and new in the city of Vilnius, the project builds on the city's easy access to nature and public space. Landscape design themes were deliberately drawn from the local context, including the site's proximity to the river, native tree species and the surrounding landscape, helping to give the project a distinct character while integrating it into the town.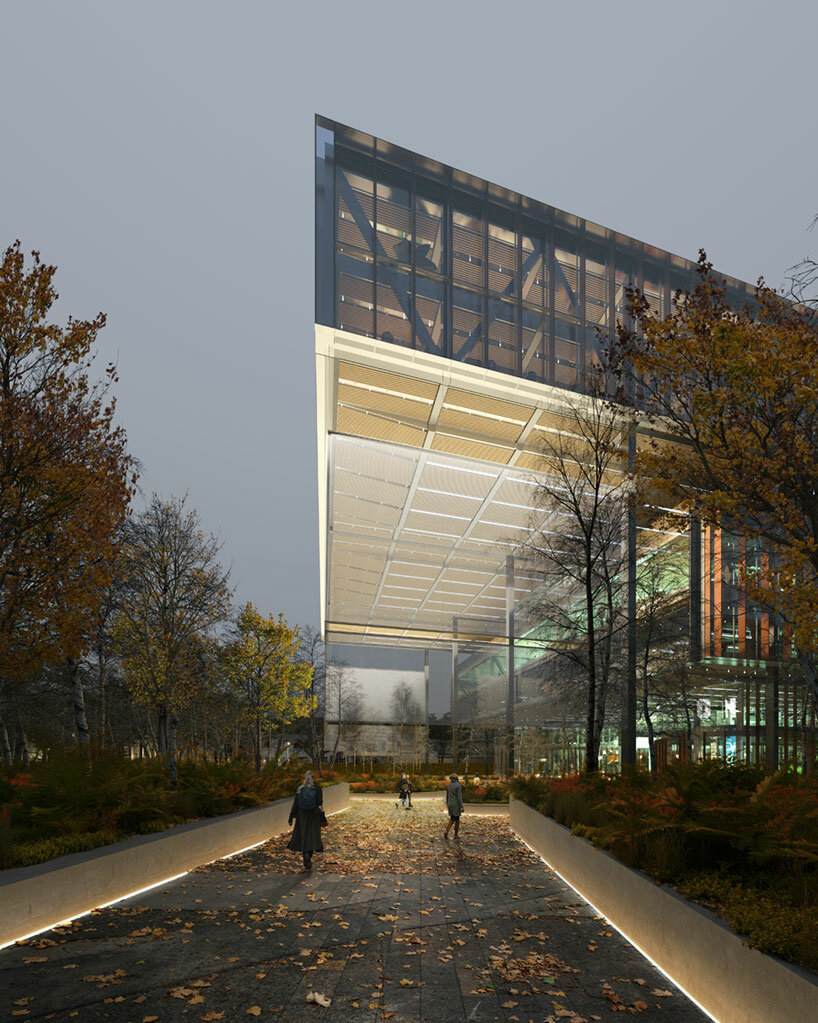 connecting the old town to the new
Rogers Stirk Harbor and Partners' project is a gathering place, connecting Vilnius' CBD district to the Old Town through an arcade of shops and cafes as well as a covered public street in the heart of the new business center. Above the new street is a grand staircase, visible to the public, which connects one side of the courtyard to the other.
A sequence of planted platforms and landings floats in space connected by a series of generously sized steps. These create a central place that is as much about gathering to meet, greet or retire as it is about moving around. Above is a fully glazed atrium roof incorporating automated natural ventilation and solar control systems to allow daylight to enter the heart of the building while ensuring a comfortable environment.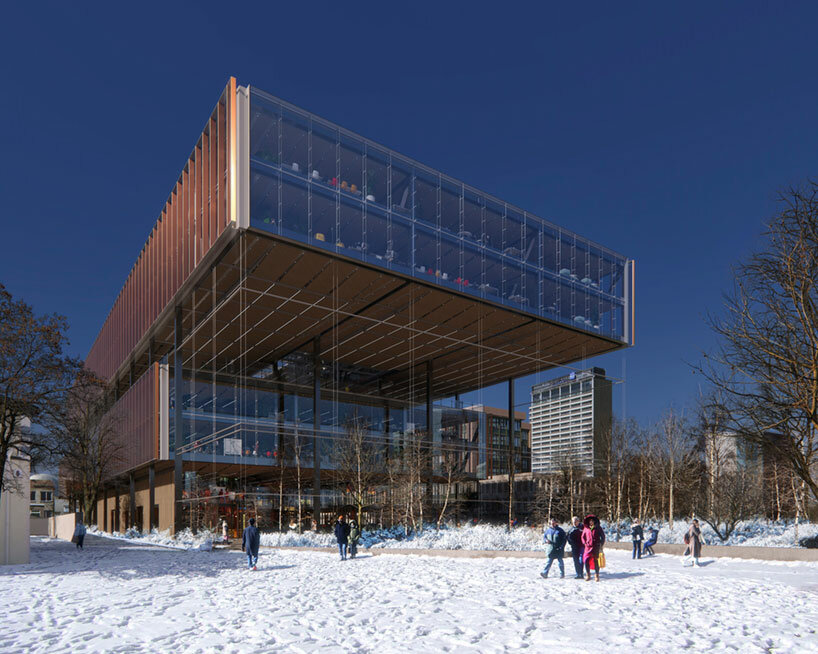 net zero design
Through a balance of passive design features supported by science-based engineering solutions, the team paved the way for near-zero carbon development, maximizing passive measures, utilizing energy-efficient production, optimizing HVAC and offsetting energy demands with renewable technologies.
Reducing embodied carbon is a key design ambition. For this project, we created the illusion of a "columnless" space. The floor beams are supported by three trusses spanning the length of the building and a secondary floor frame supporting short floor spans of 5.25 metres, using cross-laminated timber floorboards to achieve a significant embodied carbon reduction compared to conventional construction techniques. Materials, where possible, are intended to be locally sourced to reflect the local environment and material heritage of Vilnius.