UNEMORI ARCHITECTS completed the " sukagawa community center " in Fukushima, a 13,698 m2 (147,444 sq. Ft.) Multi-purpose building complex housing a library, museum, conference hall, childcare assistance, as well as a cafe, among others. the project was developed as part of a municipal reconstruction project to revitalize the city center severely damaged after the great earthquake in eastern japan of 2011. built in collaboration with the architectural firm and d Ishimoto-engineered, the five-story building features open floor reverses, cantilever slabs, and an activity-based floor plan.
sukagawa community center is home to a wide range of cultural and recreational activities that aim to regenerate community life and establish a lasting and versatile relationship between the city and its citizens. activity themes such as "raising", "playing", "creating", "learning" and "meeting", divide the multipurpose building into different fields of action, while the categories of conventional libraries are reclassified to create a brand new system. " with the material from the library, we edited around 250,000 books from scratch in a new original classification of the city of sukagawa, " hiroyuki unemori, founder of UNEMORI ARCHITECTS, tells designboom in a zoom interview.
all pictures from kawasumi ・ kobayashi kenji photography office
header image by kai nakamura
together with ishimoto architecture and engineering firm, UNEMORI ARCHITECTS developed the sukagawa community center as a complex structural system. the building is designed as an interlocking structure based on different floor slabs, which are divided into small sections and staggered to form a gradual retreat to the site facing the historic main street. its interior is characterized by an open floor plan and staggered floor levels that partly appear to float freely in the center cavity. this complex structural system is made possible by a steel frame megastructure, which is placed on the third and fourth floors.
designboom spoke with hiroyuki unemori, founder of UNEMORI ARCHITECTS, about the design of a community building after a great natural disaster and how they revamped the entire Japanese library system to create something unique to the city of sukagawa. Read the interview in full below.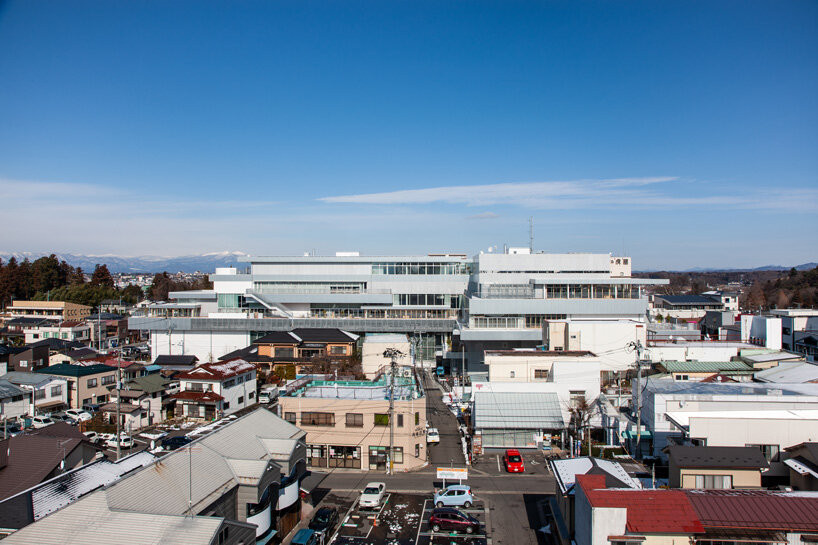 designboom (DB): the sukagawa community center was developed following the great earthquake in eastern Japan on March 11, 2011. How does the new design respond to future natural disasters?
UNEMORI ARCHITECTS (UA): sukagawa community center is a project after the great earthquake in east japan, and that's why we tried to approach it in both a hard and soft way. for the hard design, we stacked a series of slabs and shifted them to the side to create outdoor decks. this allows us, in the event of a disaster, to evacuate the building via the exterior terraces and the stairs. In addition, in the current situation of the coronavirus, the interior can be better ventilated not only by the terraces but also by the large windows. As for the gentle design, this building has become a base for many generations of citizens, from children to the elderly, who can visit and work in this building on a daily basis. in doing so, you can see the faces of the citizens and understand the building. this daily use works effectively for evacuation and disaster relief.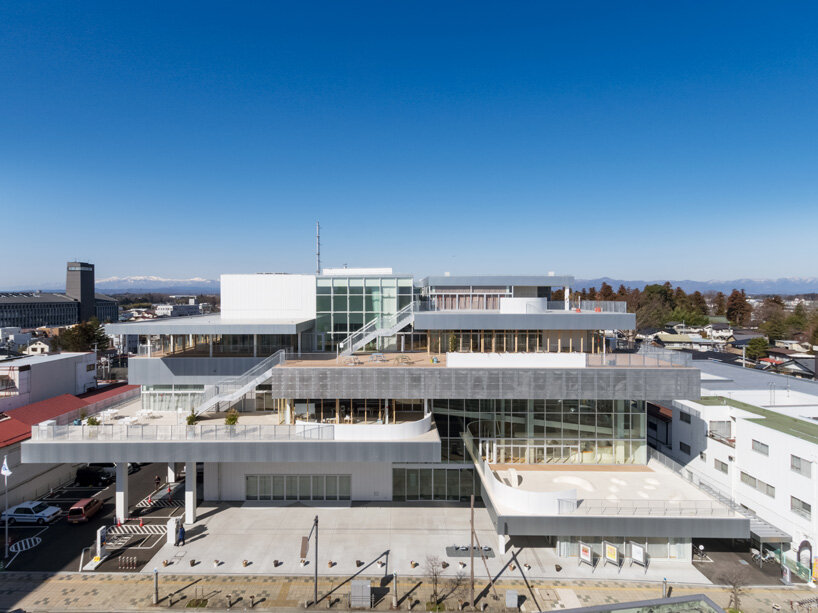 DB: What were the requirements and challenges, if any, of designing a building to revitalize the destroyed downtown area of ​​sukagawa town?
UA: after the earthquake, the city was so deserted that most of the people walking there had disappeared. therefore, by creating many terraces, we allowed to see people directly from the city and I wanted to encourage the city with the appearance of people working in this building. I also wanted to create a building that allows you to walk around the city and be in continuity with the city. sukagawa is a city with many slopes, and this site also has a drop of about 2.5 meters between east and west. in order to connect the unevenness, the ground of the first level has been transformed into a slope as a whole so that one can cross the building and connect the city. however, such sloping terraces and floors are very difficult to achieve in Japanese public facilities for reasons such as safety. but we managed to make this project come true thanks to a lot of discussions with the people involved.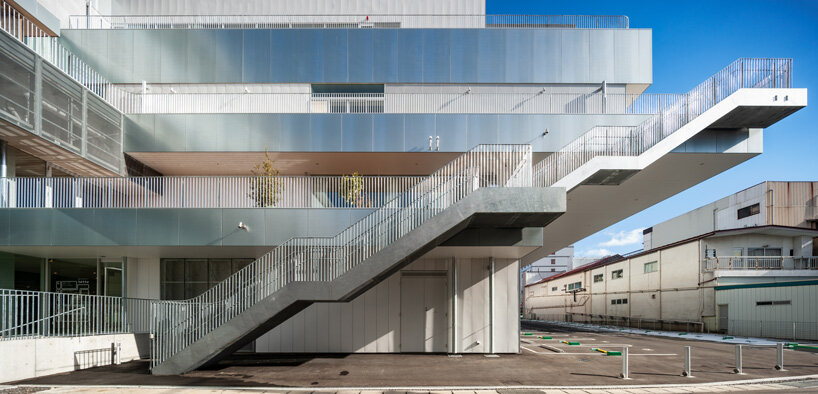 DB: what were the public's demands and how did you integrate them into the design concept? What activities does the mixed-use building floor plan contain?
UA: approximately 35 public workshops were held between the start of design and completion of the building, and 1,400 notices were issued. there were various and many requests, and some of them were a bit crazy, like wanting a hot spring or a planetarium. however, when we listened to these opinions, many of them crossed functions, like wanting to teach food, or education in the form of a cooking class, and that it would be nice if the playground for children and the library were nearby. maybe after the earthquake we realized there was a potential demand among citizens to connect with someone. after this workshop, we reconsidered a complex installation which until then had only different functions to create a new architecture with integrated functions. this building is mainly a multifunctional library complex and a community center with support for childcare. therefore, we tried to break it down into activities and reclassify them into nine themes. the books are classified according to each topic. the whole building is a library, forming an integrated architecture that is a place of activity. for example, we have organized books on crafting objects in the immediate vicinity of the craft room. in addition, cooking books were placed near the cooking workshop and books such as picture books were placed in the indoor play area. in doing so, even if the children are not interested in books, they will still come across these books. also the opposite could happen; people who come to pick up books may encounter these activities.
Source link